Apple has filed a patent application that would enable iPhone users to transfer files and typed messages to others while speaking with them during a voice call.
  Entitled Auto Messaging to Currently Connected Caller, the filing was published on Thursday by the US Patent and Trademark Office.
  The filing describes a method in which a caller can concurrently run an SMS or email application and a telephy application on the same device - both the iPhone and iPod touch are mentioned in Apple's proposed implementation, with the latter presumably operating over a Wi-Fi voice connection.
  "While a user of a mobile device is using telephony services," the application reads, "the user may want to send a message or a file to the other party. To send this information, the user may have to disconnect the call, and then perform a lookup of the caller's contact information prior to being able to send the message or file. This multi-step process can be tedious for the user."
  To avoid this tedium, the document envisions a system where a user can communicate in voice mode with one or more other callers, and be presented with a user interface that lets them select the callers they wish to share messages and files with.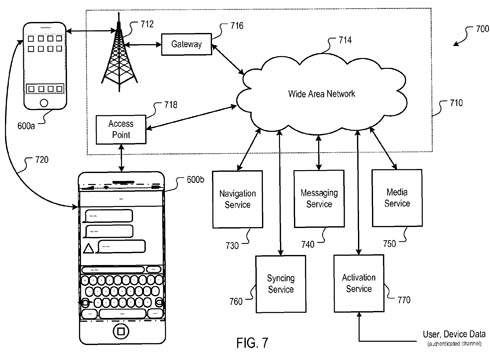 No network diagram is worth its salt if it doesn't include a cloud
  File types to be supported include music, documents, notes, URLs, photos, or "any other type of file stored on the mobile device," including contact information. Such assets could also be selected from cloud-based media services. All of these could be chosen and sent through the device's interface without the user having to exit the telephony application to do so.
  Of course, to accomplish this type of multi-app operation, the apps will need to run concurrently. Apple doesn't allow this functionality in third-party apps - you can't listen to a Pandora broadcast, for example, while reading an ebook using the Kindle iPhone app - although Apple does allow its own apps that honor. You can, for example, keep listening to the iPod app while reading a Kindle ebook.
  Interestingly, the filing also describes a scenario in which the initiating device can "extend internet access (eg Wi-Fi) to other wireless devices in the vicinity. For example, [the] mobile device... can be configured as a base station for one or more devices."